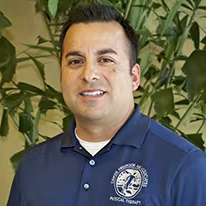 Victor Aguilar
DPT, OCS, GCS, Cert. MDT
Victor entered college as a computer science major, but by the end of his second year a torn ACL injury changed the direction of his studies. He had a surgical repair, and after going through the rehabilitation process he realized that physical therapy was the career best suited for him. He maintains his interest in technology, but prefers to work closely helping people on a daily basis. Victor received his Doctor of Physical Therapy degree from the University of the Pacific in 2003. In 2000 he graduated Magna Cum Laude from California State University Stanislaus with a Bachelor Degree in Physical Education with a concentration in Athletic Training. During his training, at UOP Victor was a physical therapy intern in our clinic and he came to work for us immediately upon graduation and shows his care and commitment on a daily basis. He has completed the McKenzie training for Mechanical Diagnosis and Treatment of spinal and extremity conditions. Victor also maintains dual specializations in the areas of Geriatrics and Orthopedics making him one of only a handful of physical therapists in California to have done so. Additionally, Victor has become credentialed with a Certified Exercise Expert for the Aging Adult (CEEAA). He therefore demonstrates expert clinical decision-making skills in designing and measuring effective exercise prescriptions for aging adults. Victor plays touch football, basketball, golf, and loves to snowboard. He maintains an active personal physical fitness program, and enjoys inspiring people to be active.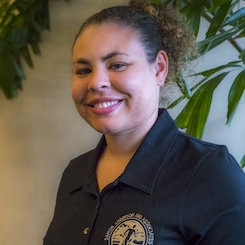 Therese Ruffin
PT, DPT
Therese grew up on the Monterey Peninsula and was an active high school athlete at Seaside High School excelling in basketball and track. During this time she interned at our clinic and became passionate about physical therapy and helping people. She completed an educational pathway at California State University Fresno by obtaining her bachelors and masters degrees in Exercise Science. She gained valuable teaching experience as a graduate T.A. (teachers assistant) in biomechanics. Her education culminated in a Doctor of Physical Therapy degree in 2015. Therese enjoys working out, traveling, going to the beach and spending time with her family and friends.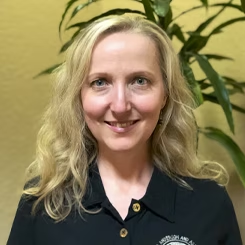 Erin Tooms
PT, MPT, CCI
Erin Tooms, originally from Bass Lake, CA, received her undergraduate degree in Biology at CSU Fresno in 2002, and then subsequently stayed for her Master's in Physical Therapy. Following her graduation in 2006, she began her PT career in Visalia and served the patient community there for 11 years with a passion for treating the spine. Erin relocated to the Monterey area and spends her free time on latin ballroom dancing, and loves riding horses.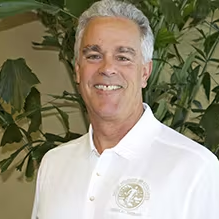 Damon Anderson
PT, OCS, ATC, Cert. MDT  |  Founder
Damon graduated Magna Cum Laude from Stanford University in 1983 with a Master of Arts degree in Physical Therapy. He attended California State University Long Beach where he graduated in 1978 with a Bachelor of Arts degree in Physical Education. He also completed the K-12 Teaching Credential and the Athletic Training Curriculum Program at Long Beach State. Damon became an NATA Certified Athletic Trainer in 1980. He has athletic training/sports medicine experience at the high school, junior college, and NCAA Division 1 level.
Damon started working as a physical therapist in Monterey in 1983 at the Sports Medicine Center. He was the chief therapist until he became the owner in 1988. Damon Anderson and Associates Physical Therapy have cared for patients on the Monterey Peninsula for 33 years.
Damon has a passion for helping people return to their maximal achievable function. Damon enjoys spending time with his family and leading an active lifestyle. Damon's father was a physical education instructor and head college football coach at San Jose State University, so he grew up in an active sports and outdoor recreation family. He played competitive football and basketball through the junior college level at Cabrillo College. In the past he was a serious distance runner, and completed 5 Big Sur Marathons, as well as numerous triathlons, including the Escape From Alcatraz and the Pacific Grove Triathlon. He enjoys biking, hiking, surfing, stand-up paddling, skiing, snowboarding, and windsurfing. Damon was fortunate to observe Robin McKenzie, PT a legendary physiotherapist from New Zealand, treat patients in Oakland, CA in 1982. McKenzie's revolutionary evaluation and treatment approach continues to influence Damon to this day.
Damon requires all of his staff physical therapists to be certified in the McKenzie Approach to Mechanical Diagnosis and Treatment of the Spine and Extremities. The emphasis on this highly effective approach sets us apart from other practices. Having had his share of injuries, Damon has gathered an empathetic team of therapists who can appreciate each patient's desire to regain functional ability as soon as possible after an injury. His passion for restoring patients' quality of life while providing the highest level of care has shaped the culture of our entire clinic.